Vinyl Flooring in Mason City, IA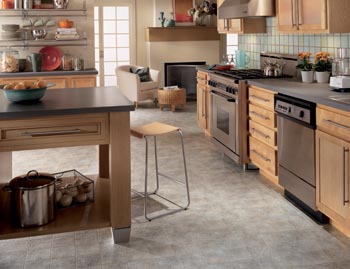 There are countless vinyl flooring options for today's homeowners. This often makes shopping for new floor a bit challenging. Make your replacement project easy with the help of our local flooring store. From selection to installation, our experts partner with you every step of the way. Our showroom specializes in offering an endless variety of choice, making sure you get the beautiful flooring you want and deserve. If you are looking for stylish and durable vinyl flooring in Mason City, IA, our showroom is the first place you should stop. We carry a seemingly endless variety of colors, styles, and textures that can stand the test of time.


For clients who desire the perfect combination of beauty and functionality, we recommend resilient vinyl plank or sheet flooring. Unlike the vinyl floors of past generations, the latest styles of vinyl plank and luxury vinyl tile flooring offer the look of luxury for less. More than that, recent innovations in the manufacturing process produce vinyl that lasts for many years without showing wear and tear. With only the slightest of maintenance, you can get brand new, beautiful floors in almost any style that last for a long time. The best part is you don't have to break the bank, which ensures that you get the most out of every dollar you spend.
Quality Installation Services
Purchasing the vinyl sheet flooring of your dreams is a wasted investment when installed poorly. Get the long-lasting flooring you desire by entrusting the vinyl floor installation to us. Our team of flooring experts includes knowledgeable in-store associates, as well as experienced installation technicians. The contractors we employ are not only experts at installation, they are also extremely respectful of your space and time. We come by at a time that is most convenient for you and make sure that anything we move to install your floors is put back right where it was. When we are done, we leave nothing behind other than the beautiful new floors we installed.
Installation of vinyl plank and tile for both large and small projects is handled with the same level of professionalism, allowing you to start enjoying the new floors as quickly as possible. We are so confident in the work of our installers that we back completed installations with the Lifetime Installation Guarantee, which states that if there is ever any installation-related issue, we will make it right at no cost to you.
In addition, our Ultimate Confidence Guarantee states that if you are not happy with any 4-Star or 5-Star rated floors within 30 days of installation, we will replace those floors for free. Our primary concern is ensuring that you are completely satisfied with the floors you purchase from us. Therefore, we want to be with you from start to finish, helping you do everything from designing to installing. With our help, you can get new floors that add a great deal of appeal and value to your property.
How to Care for Your Vinyl Tile or Vinyl Plank Floor
What's the best thing about vinyl floors? Between the long lifespan and cost-effective price, it's hard to decide. Even in the most active household, vinyl continues to hold up well far into the future. If you need pet or family-friendly flooring, you can't go wrong with a choice like vinyl. All it takes to clean up daily messes on your vinyl tile or vinyl plank floor is a quick sweep or mop. Best of all, it resists any spills and foot traffic that you can throw at it. Modern life is busy and fast paced, but with vinyl in your home, you won't have to worry about the toll it can take on floors. Vinyl floors also provide all of the following additional benefits:
Availability in a Range of Styles & Fashions
Cost-Effective Alternative to Other Options
Resists Scratches, Stains, Dents, & More
Perfect for Wet Areas, Like the Kitchen & Bathroom
Easy to Clean & Requires Little to No Maintenance
Start Shopping for Luxury Vinyl Tile Flooring Today
Luxury vinyl tile, also referred to as LVT, is an ideal option for any room of your home. Not only does it flow seamlessly with your existing décor, but it greatly improves the value of the property. Even if you aren't sure what type of luxury vinyl tile flooring you desire, we can still help you find the ideal option.
Our associates take the time to understand your expectations in floor appearance, performance, and price, allowing us to quickly narrow down our inventory to a few top contenders. In many cases, clients are able to make a purchase within a single, short visit. Set up an appointment or come by today to begin the process of working closely with us to perfect your home.

Contact us today to find out more about what vinyl flooring can do for you. We proudly serve the communities of Mason City, Clear Lake, Plymouth, Forest City, and Lake Mills, Iowa.