Tile Flooring in Mason City, Iowa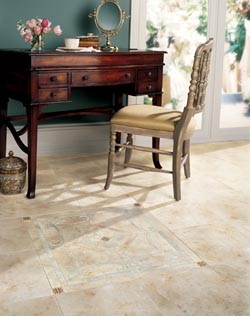 Shop for ceramic, porcelain, and slate tile flooring in Mason City, Iowa, at our world-class flooring store. Our flooring specialists assist you every step of the way—from selection to installation. Plus, we provide professional tile flooring installation or replacement services for any area of your home or business.
Depend on our numerous tile floor collections to find the brands, styles, variations, and hues you need to fit your design plans. You are sure to find the floors that best suit your needs in looks, performance, and price.
The tile floors we offer deliver many benefits to any home or business property. They not only add an aesthetic boost to your property, but they are also resistant to all of the following:
Moisture
Fire
Slips
Scratches
Dents
Plus, they are very low maintenance, which makes them an ideal flooring choice for busy households with children and pets. Spills and stains are no problem, as they are quickly removed by a few swipes from a washcloth or a standard mop. Furthermore, these tile floors are easy to sanitize and resist chemicals so you can rest easy knowing that your floors aren't harboring strains of bacteria or toxic chemical residue. Tile flooring from our store strikes just the right balance between beauty and function.
Stylish & Durable Ceramic Tile
Thanks to the affordable ceramic tile flooring available from our store you can upgrade your home with style and a highly cost-effective flooring surface. This tile is one of the most versatile flooring options currently on the market, which makes it an ideal solution for homeowners looking to boost the attractiveness of their home. Choose from numerous options in finish, color, style and texture.
Adding the right glaze or sealant to your ceramic tile floor helps boost the durability of your floor and keeps it safe against high humidity conditions, water damage, and stains. What does that mean? It means that not only is this flooring surface perfect for your bathroom and kitchen, but any other room throughout your entire home. Enjoy this gorgeous floor that looks wonderful while relieving you about any concerns that involve cracks, chips, or other wear-and-tear damage.
Strong, Attractive Porcelain Tile
Use porcelain tile anywhere for an attractive, high-performing, strong tile floor. Come to our store and browse our impressive collections of porcelain tile flooring, in many textures, hues, and patterns. This very resilient flooring option retains its attractiveness while being able to withstand the toughest wear and tear from your most trafficked areas. Installing this extraordinary and impressive tile gives you the ability to create a one-of-a-kind look for your home and enjoy its resistance to staining, moisture, fading, or scratches.
This flooring option is as aesthetically pleasing as it is strong, and gives homeowners the ability to create attractive, long-lasting, unique designs. Porcelain also has the ability to imitate the appearance of a wide variety of all of the following high-end materials:
Slate
Granite
Limestone
Natural Stone
Quartzite
Travertine
Marble
Terracotta
Hardwood
Metal
Slate Tile for an Elevated Aesthetic
The naturalness of slate tile combined with its impressive strength makes it a versatile flooring option. From cool creams and warm browns to shades of pink, grey, and black, our slate tile floors come in a number of different options so you can customize the look of any room in your home. Match your tile flooring to family heirlooms, décor, or furniture that exudes the ultimate in refinement.
Slate tile flooring from our store works well in bathrooms and kitchens, where moisture prevails. Additionally, tile floors never fade or change color due to environmental factors such as direct exposure to UV rays. Rest assured that the tile flooring hue you purchase is the color that will last throughout the years.
Professional Tile Flooring Installation
The entire flooring process can be handled by qualified flooring installers from our store. From picking out the type of tile flooring you want to having it installed expertly, you can rest easy knowing your investment is in good hands. As important as the quality of your flooring materials, proper installation ensures longevity and the most even and correctly measured looks. Don't let an amateur ruin the look of your new floor when you can work with our trusted professionals instead.
Feeling a bit overwhelmed by our broad selection of flooring options and services? Our knowledgeable associates are ready to guide you throughout the sales and installation process. Just visit our showroom and we will sit down with you and help you find the perfect floors and inform you about the benefits of the different brands, styles, and types. When you leave our store, we want you to be 100 percent confident in your flooring choice and know that it will be installed the right way the very first time.


Contact us when you want to learn more about the benefits of tile flooring. Our team assists customers located in Mason City, Clear Lake, Plymouth, Forest City, and Charles City, Iowa, as well as the surrounding areas.