Tile Flooring in Mason City, Iowa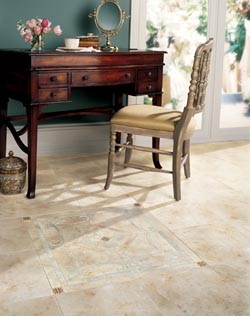 A new choice of flooring can work wonders for your home or office. It's one of the first things, employees, patrons, or visitors notice when they step foot inside. Find a beautiful, reliable flooring material that's sure to meet your aesthetic and functional needs when you visit Flooring America of Mason City.
Curating a charming look in your space is both affordable and fun when you step foot in our fully stocked flooring showroom. At our location, we proudly carry an impressive selection of beautiful tile flooring in Mason City, IA. One stop in our fully stocked showroom is all you need to find an excellent flooring choice that's sure to satisfy. Whether you prefer contemporary ceramic tile, porcelain floor tiles, or something else entirely, you won't have any trouble finding an exceptional flooring selection that suits your project.
Offering Several Different Types of Tile
Coveted by home and business owners alike, tile has long been a favored material for commercial and residential flooring of all scopes and sizes. Offering a timeless look and an unmistakable elegance that anyone would be proud to have in their space, tile flooring provides an ideal combination of beauty and durability.
From ceramic and porcelain to slate tile flooring, ambitious shoppers can find the right brands, styles, and variations they need to fit their design plans. Best of all, the floors we have available are remarkably resilient. You can count on our tile floors to resist the following:
Dents
Fire
Moisture
Scratches
Slips
Choose Our Tile Floors for Their Ease of Maintenance
When you're looking for new floors, the last thing you need is to undergo new renovations and have your new materials show signs of wear early. Concerning durability, our tile flooring choices are well-suited for all sorts of busy household and office environments that are subject to a great deal of foot traffic.
No one wants to spend all of their time cleaning floors when there are several more pressing matters that need tending to. The demands of family and work leave little time to handle other obligations. Fortunately, advances in manufacturing have made a variety of flooring choices more desirable than ever. Cleaning becomes almost effortless when all it takes to maintain your tiles is a quick mopping to keep them looking their best.
Laying Everything in Place with Tile Flooring Installation
Ensuring the beauty and longevity of a new choice of flooring starts with installation from seasoned technicians. Once you're satisfied with your new flooring materials, turn to our experienced crew of professional installers for comprehensive tile flooring installation. With our professionals putting your new selection in place, you'll be able to enjoy your new floors even sooner than you think. So, whether you're looking to renovate with a stone tile bathroom or you wish to redress another part of your structure, you can count on our skilled team members to meet your every need.
Contact us to learn more about the vast selection of tile flooring products we have available. We proudly serve customers located in Mason City, Clear Lake, Plymouth, Forest City, Charles City, Iowa, as well as the surrounding areas.