Laminate Flooring in Mason City, IA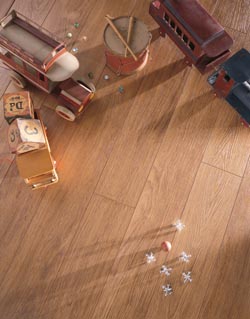 When you seek flooring that is easy to maintain, resists scratches, and is rich with color and design, choose our laminate flooring in Mason City, IA. Our associates are well-versed in the language of laminate and are here to answer all your questions. We offer a distinct depth of knowledge that helps you decide what will work best in your home, whether you run a busy household or live a more low-key existence.
When you're looking for style, easy maintenance, and great prices, there's no better choice than laminate. Stop by our flooring showroom to view our wide selection of laminate floor materials. Let our flooring experts help you find the perfect flooring to match the style of your room. After that, our laminate flooring installation professionals can quickly and accurately install your new floor. With a simple care routine and proper installation, your laminate floors will provide you with years of beauty and durability.
Full Selection of Laminate Floor Styles
Laminate floor materials allow you to achieve the majestic look of stone, ceramic, and hardwood while staying within your budget. It's difficult to tell the difference between costlier flooring and laminate, making it a cost-effective option that complements every room. We provide you with a selection of trusted national brands, including Armstrong and Mohawk, so you know you're investing in superior flooring at a price that's right.
Tailor the look of any room in your home by selecting from the many hues, styles, and variations we offer. Our showroom is full of aesthetically pleasing boards, samples, and designs for you to peruse so you can decide what will work best in your space. Whether you want a traditional or modern, simple or complex look, our array of laminates is bound to have just what you're looking for!
For superior versatility, opt for this flooring material in a variety of sizes and styles. Our showroom displays a beautiful collection of surfaces that emulate virtually any type of flooring you seek. Advances in contemporary technology have significantly improved the appeal of laminate floors, making it difficult to tell the difference between more high-end flooring and the convenient style and practicality of laminate.
A high-resolution photograph that emulates the texture of wood, tile, or stone is bonded using high heat to an aluminum oxide top coat, a resin backing layer, and a wood core. These bonded layers create a flooring surface that is resilient and easy to install. Laminate wood floors are available in varying thicknesses, from 6 to 12 millimeters, providing the durability you seek for different areas of your home.
Protect Your Investment with Laminate Flooring Installation
Count on our professionals for fast and easy laminate flooring installation. Using a click-lock system, these types of floors make installation quick to complete for our specialists. The tongue-and-groove installation method allows laminate to be assembled like a puzzle, greatly increasing the speed and accuracy of the installation process and leaving your floor smooth. Some brands of laminate flooring even have glue applied at the factory. Our installer simply dampens the glue backing and affixes the laminate to the floor, completing the installation. With professional installation, your new laminate floors will look exquisite for many years to come.
You can rest easy when you purchase your new floors from our flooring store because we offer some of the most ironclad warranties in the industry. With our Confidence Plus Guarantee, we'll replace any 4- or 5-Star Rated floors if you're not pleased with your purchase within 30 days. We'll be happy to replace your floors and even pay for the labor.
Our Price Protection Guarantee helps you get the best price on your laminate floor. If you discover a lower price on the same brand and style of floor within 30 days of your purchase, we'll refund the difference. Finally, our Lifetime Installation Guarantee means that if you have any installation-related problems after our team installs your floors, we'll make it right at no expense to you.
Contact us when you want to add laminate flooring to your home. We're proud to serve customers throughout Mason City, Clear Lake, Plymouth, Forest City, and Charles City, Iowa.