Since the beginning of the pandemic, working from home has only become more and more common. And while we are slowly getting certain parts of life back to normal, working from home is not something we see being taken away any time soon. From the lack of commute to the flexibility that remote work allows, many industries are recognizing the benefits of allowing their employees to do their jobs from wherever they see fit – and oftentimes, that means working from the comfort of their own homes.
If you are one of the many who works in a partially or fully remote position, you know the importance of creating a productive space within your home. Not everyone has the space for a home office, which brings us to one of our favorite interior design trends in 2022: Multipurpose Workspaces. This post-pandemic style puts emphasis on creating a workspace in your house that you can feel good about, that helps you relax and most importantly, that helps you be your most productive self.
Whether you have a home office or a coworkspace shared in your household, upgrading your space with floors that function well and feel good is the perfect way to elevate your work area, lift your spirits and amplify your efficiency on the job. Check out some of our favorite flooring products below to start creating your dream workspace at home.
1. Waterproof Carpet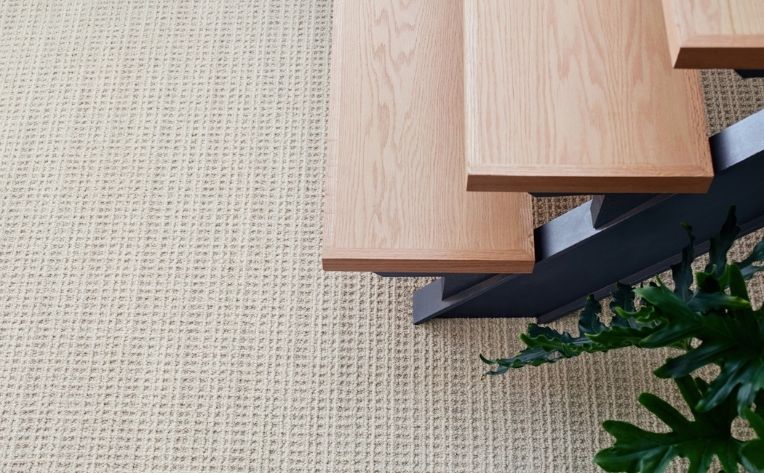 Moonlight by Tigressa Cherish in Reflection
We know that more work from home time is inevitable this year, but that doesn't mean you should have to choose between comfort and productivity in your workspace. With the Tigressa Cherish Moonlight carpet in Reflection, you truly can have the best of both worlds. Enjoy the soft and comforting feeling underfoot as you go about your daily life, but rest assured that when it comes time to work, this remarkable waterproof and kid-proof carpet stands up to any challenge with special technology that resists fading and repels stains and odors.
2. Classic Hardwood
Oceana Estate – Oak in Surf by Aquadura H2O
If you're hoping to create the feel of a classic academic home office, hardwood is absolutely the way to go. With Oceana Estate – Oak hardwood by Aquadura H2O, you can get the productive feel of a library or office while skipping the imposing mahogany desk or wall to wall bookshelves. Plus, if your home office also happens to be your bedroom, living room or even kitchen table, this durable hardwood adds classic elegance that elevates your space no matter what purpose it holds. Ocean Estate – oak by Aquadura H2O is waterproof, kid proof and pet proof, and it comes in 8 different wood-tone hues making it easy for you to find the right shade for your multipurpose workspace.
3. Durable Laminate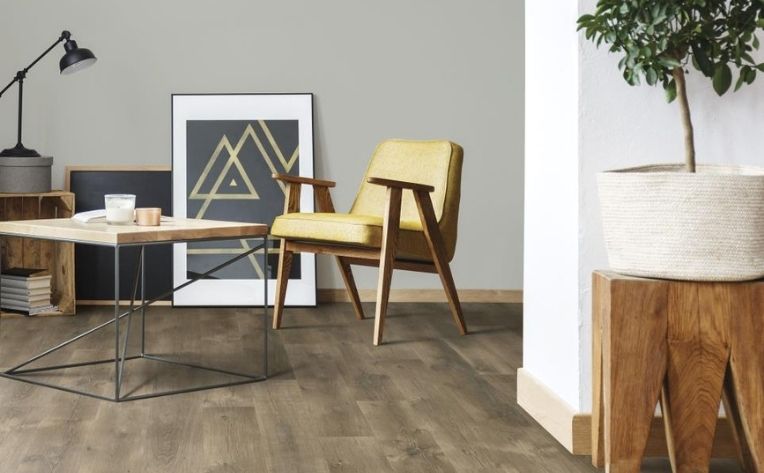 Mountain Lane Oak in Shoreline by Floorcraft Performance Flooring.
Are you looking for the distinguished feel of hardwood, but need something with a little less maintenance? Mountain Lane Oak laminate flooring by Floorcraft Performance Flooring is a great option. This durable laminate flooring offers the same warmth and elegance to your workspace that can be found with hardwood, but is also easy to install, waterproof, kid proof, pet proof and can easily handle even the most active lifestyles and workspaces. This is a great option if your home workspace is also your home gym, game room or just sees a lot of traffic in general. Mountain Lane Oak laminate by Floorcraft also comes in 5 different wood-tone hues and features a popular wide-plank design to truly mimic the look of weathered, aged oak.
4. Elegant Luxury Vinyl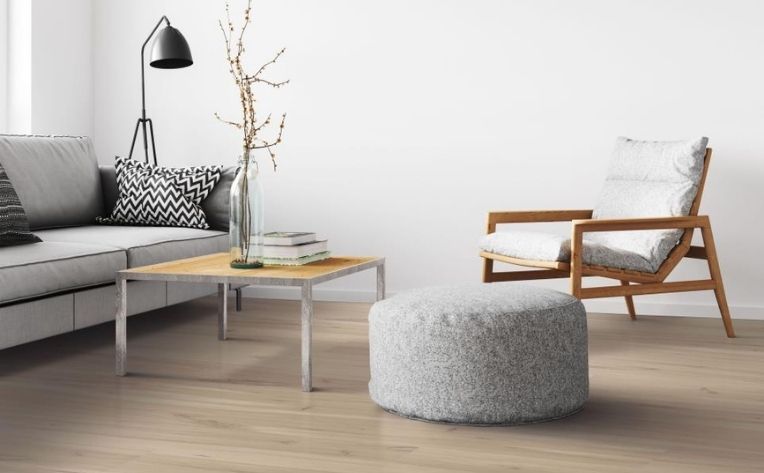 Mount Vista Premiere in Kaibab by Downs H2O
Another way to achieve the academic wood look without spending a pretty penny is by choosing an elegant luxury vinyl flooring, such as Mount Vista Premiere by Downs H2O. This extremely durable vinyl flooring comes in 7 different wood-tone hues and uses advanced imaging technology to capture the look of genuine wood in such perfect detail that you might even forget it's not actual wood! Mount Vista Premiere vinyl flooring is completely waterproof, while also being scrape and scuff resistant – perfect for an active lifestyle and for a workspace that sees higher volumes of traffic. With this stunning yet durable choice, you'll feel more productive than ever in your newly elevated multipurpose workspace.
With so many options to choose from, it can be overwhelming to decide which flooring solution is the best for your unique multipurpose workspace. Of course, we are more than happy to help. Consult the professionals at your local Flooring America for expert flooring advice, and check out our 2022 Style Watch list to read about this year's other top flooring trends and products.